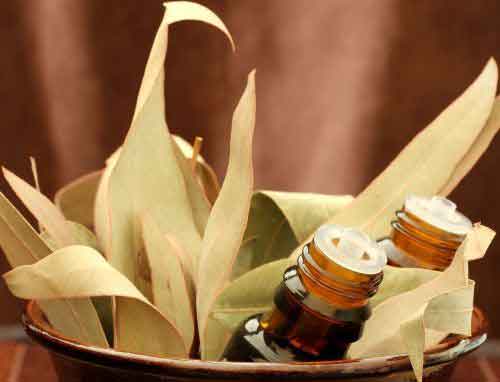 Eucalyptus Essential Oil
Eucalyptus natural oil  obtained by distillation and having the characteristic odour of the plant and coconcentrated hydrophobic liquid containing volatile aroma compounds.
Some of the main components
Properties
Doses and way of use
Precautions
Additional Information
Reviews (0)
p-Cymene
Spathulenol
Carvacrol
Cineole
β-Phellandrene
α-Phellandrene
α-Pinene
Wounds: Eucalyptus essential oil has antiseptic qualities because of its germicidal quality. Upon exposure to air, ozone is formed which is a well-researched antiseptic. Therefore, eucalyptus oil is used for healing wounds, ulcers, burns, cuts, abrasions and sores. It is also an effective salve for insect bites and stings. Furthermore, besides soothing the affected area, it also protects the open wound or irritated area from developing infections from microbial activity and exposure to the air.
Respiratory problems: Eucalyptus essential oil is effective for treating a number of respiratory problems including cold, cough, runny nose, sore throat, asthma, nasal congestion, bronchitis and sinusitis.
Asthma Simply massage 1-3 drops onto the chest and the soothing effect of the aroma and vapors will calm the throat and dilate the blood vessels, which will allow more oxygen into the lungs and normal breathing can be achieved. The anti-inflammatory properties of eucalyptus essential oil also come into play in using it to get relief from asthmatic symptoms.
Mental exhaustion: Eucalyptus oil, a stimulant, removes exhaustion and mental sluggishness and rejuvenates the spirits of the sick. It can also be effective in the treatment of stress and mental disorders.
Muscle pain: massaging eucalyptus oil on the surface of the skin helps to relieve stress and pain. it is often recommended to patients suffering from rheumatism, lumbago, sprained ligaments and tendons, stiff muscles, aches, fibrosis and even nerve pain. The oil should be massaged in a circular motion on the affected areas of the body.
Dental care: Eucalyptus essential oil is very effective against cavities, dental plaque, gingivitis and other dental infections owing to its germicidal properties.
Lice: Due to its well-known qualities as a bug repellent and natural pesticide, it is frequently used as a natural treatment of lice. Some of the mainstream treatments of lice can be very severe and damaging to the hair, as well as packed with dangerous chemicals that you don't want being absorbed into your skin, so combing a few drops of eucalyptus oil through a lice-infested head is a much better and healthier solution.
Intestinal germs: Eucalyptus oil is a vermifuge and is frequently employed to remove germs in the intestine.
Skin care: Eucalyptus oil is often applied topically to treat skin infections.
Diabetes: When ingested, eucalyptus oil can help control blood sugar.
Fever: Eucalyptus oil is also used for treating fever and reducing body temperature. It works well when combined with peppermint oil and sprayed on the body as a mixture of a deodorant and a temperature reducer.
This essential oil works different ways. In vapor therapy (in the form of burners and vaporizers), eucalyptus oil may be used for respiratory problems, for helping improve concentration, or as an insect repellant.
It can also be used in blended massage oil or diluted in your bath – methods that can provide benefits against arthritis, asthma, mucous congestion, colds, headaches, sinusitis, fatigue, and muscle aches and pains.
You may also use eucalyptus oil in a cream or lotion for pain relief and for speeding up the healing of wounds and ulcers. Use it on your skin for insect bites or wounds, but be very careful when doing so. Finally, We recommend adding very diluted eucalyptus oil to a gargle as a soothing remedy for sore throat.
Essential oils generally blend well together. Eucalyptus oil, however, blends particularly well with benzoin, thyme, lavender, lemongrass, lemon, and pine.
There are some Precautions of taking too much eucalyptus oil, because when taken in large quantities, eucalyptus oil can be toxic. It may also interfere with other homeopathic treatments. Also, for certain people with allergic sensitivities, eucalyptus essential oil might be cause airborne contact dermatitis, which can be very uncomfortable. Before beginning any new intensive alternative medical treatment, consult your doctor for advice, or an allergy test.