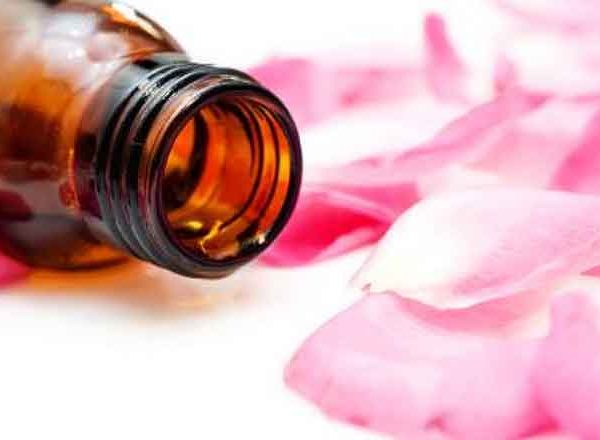 Geranium Essential Oil
Geranium natural oil  obtained by distillation and having the characteristic odour of the plant and coconcentrated hydrophobic liquid containing volatile aroma compounds.
Some of the main components
Properties
Doses and way of use
Precautions
Additional Information
Reviews (0)
Citronellol
Citronellyl formate
Guaia-diene
Isomenthone
Astringent: The main function of an astringent is to induce contractions in various parts of the body. Accordingly, Geranium Oil makes the gums, muscles, intestines, skin, tissues and blood vessels to contract. Furthermore, this includes the contraction of abdominal muscles which gives you a better, toned look. Geranium essential oil can also prevent muscles and skin from sagging, as well as the untimely loosening and loss of teeth by tightening up the gums.  Finally, it can reduce the presence of wrinkles by tightening the facial skin, thereby delaying some of the effects of premature aging.
Anti-bacterial & Anti-

microbial

: The strong properties of geranium essential oil prevent bacteria or microbes from developing on wounds and keeps you safe from developing infections. This boost to the immune system allows the body's defensive cells to focus on the internal challenges and dangers, rather than being weakened by peripheral toxins on the skin.
Vulnerary: Geranium Oil speeds up the healing process of wounds, cuts and surgical incisions. This property makes it a vulnerary. Perhaps, it is due to its other qualities as a hemostatic, styptic, antibacterial, antimicrobial and cytophylactic substance that also make it a vulnerary, but the end result is the same!
Cicatrisant: Everyone wants their skin to be free from scars and after marks of fat-cracks, surgeries, boils, acne or pox. Unfortunately, many people end up spending a fortune and trying all the available cosmetic solutions on the market and still don't get the desired results. They could have avoided a waste of time and money had they tried Geranium Oil first. It is a powerful cicatrisant, so it helps the scars and other spots on the skin to fade and vanish. It facilitates blood circulation just below the surface of skin and also helps promote a uniform distribution of melanin.
Hemostatic: Geranium essential oil can stop hemorrhaging in two ways. First, as an astringent (more specifically, a styptic), it causes the contraction of blood vessels and helps to stop blood flow, as discussed above. Second, as a hemostatic agent, it speeds up coagulation and the clotting of blood, which aids in the healing of wounds and the prevention of toxins from entering the bloodstream through open or unclotted wounds.
Cytophylactic: Geranium Oil promotes cell health, encourages the recycling of dead cells, and the regeneration of new cells. This helps in the growth of the body cells as well as the gametes, by making the body metabolize things efficiently.
Diuretic: Geranium essential oil has diuretic properties, causing blood pressure to fall.
Deodorant: Geranium Oil has a very pleasant and uplifting aroma.
Neural Degeneration

: Microglial cells are integral components in the fight against neuro-degenerative diseases like Alzheimer's and dementia. When microglial cells are activated, they release pro-inflammatory factors like Nitric Oxide, which combat the inflammation in the neural pathways that can cause neural degeneration. Geranium essential oil is shown to activate these microglial cells, therefore, the synergistic relationship between geranium oil and the natural chemistry of the brain can prevent those dangerous and potentially deadly conditions.
Tonic: A tonic is what tones up overall health. Internally, it makes all the systems and functions work properly in the body by influencing endocrine glands for regulating the secretion of various hormones, enzymes, acids and bile. This results in boosted strength and functionality of  the respiratory, digestive, circulatory, nervous, and excretory systems. Also, it adds tone to muscles and skin and can seriously improve your overall appearance.
Vermifuge: This particular property is very beneficial for those children (and a limited number of adults) who suffer from intestinal worms. Geranium Oil is a vermifuge and can help you get rid of this nasty problem.
There are several ways of using geranium oil. Inhaling it is one of the most common practices. Place a few drops onto a cloth or use an aromatherapy diffuser. This sends messages to your limbic system, which is in charge of controlling emotions and affecting the nervous system. Inhaling geranium oil may also influence your heart rate, stress levels, breathing, blood pressure, and immune system.
Apart from inhalation, here are some ways you can make use of geranium essential oil.
It can work wonders on bruises and cuts if used as you would any antiseptic. Just make sure you cover it with gauze.
Adding one drop of geranium oil to a small jar of cold cream or one teaspoon of wheat germ oil can also benefit hemorrhoids.
To treat athlete's foot, about five drops of the essential oil should be combined with a foot bath made of warm water and sea salt.  The mixture should be set aside in a dark bottle. Massage the formula unto your feet in the morning and at night
Geranium oil can have sensitizing effects in rare cases. Since it influences certain hormone secretions, geranium essential oil is therefore not advised for use by pregnant women or for those women who are breast-feeding, since it is unclear whether those same effects transfer through breast milk.